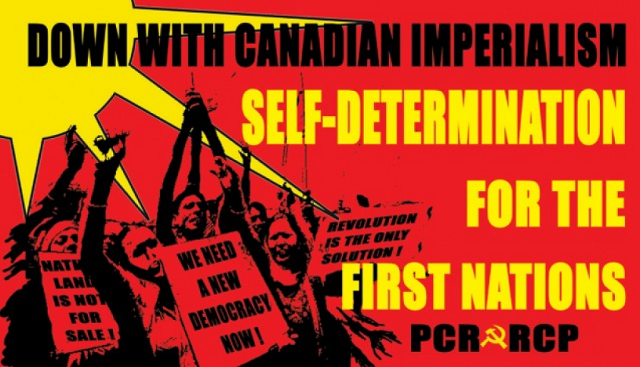 Une prise de position, sur un seul point, dans l'actuelle controverse canadienne.
Par Servir dans Accueil le

18 Janvier 2018 à 11:36
Un point (important) dans l'actuelle scission et controverse qui frappe le Parti communiste révolutionnaire (PCR) du Canada (lire ici Nous sommes les Continuateurs et ici rechercher-la-verite-des-faits-une-reponse-aux-soi-disant-continuateur-e-s), est que la position historique du Parti sur la question des Premières Nations autochtones http://www.pcr-rcp.ca/fr/3003, élaborée et maintenant défendue par le noyau originel qui est maintenant le camp dit des Continuateurs (principalement basé à Montréal), serait supposément "limitée" et devrait être "dépassée".
C'est ce que le camp opposé, qui compte des Québecois en son sein mais est principalement issu de l'expansion du Parti au Canada anglophone, affirme.
Alors du coup... Nous disons par avance à ces camarades tout notre

enthousiasme

de les voir enfin dépasser ces "limites" de la ligne historique des Continuateurs, en laissant les révolutionnaires des Nations autochtones s'auto-organiser (puisque ce sont des nationalités

distinctes

et

opprimées

) et en déclarant sans ambiguïté que 85% du territoire de la Fédération doit leur être restitué.
Bon... Peut-être que ces camarades, qui connaissent bien l'histoire comme l'actualité du mouvement communiste mondial, pourraient nous répondre "POSDR" et "TKP/ML" (deux Partis qui ne raisonnaient et ne raisonnent pas ainsi).
Mais le POSDR était un Parti social-démocrate qui n'a dépassé, avec le léninisme, les limites du "marxisme" social-démocrate que dans le feu de la lutte. Après Octobre, le PCbUS constitué alors a bien été conçu comme une fédération de Partis nationaux, bien que les Russes n'aient pas un Parti propre à eux (ils étaient directement membres du PCbUS).
Quant au sujet du TKP/ML :
1. Le TKP/ML a toujours et depuis le début affirmé clairement le droit des Kurdes à l'auto-détermination, et à longtemps été le

seul

Parti communiste de Turquie à le faire.
2. Le TKP/ML est de fait un Parti kurde (80% de Kurdes dans ses rangs).
3. Il y a beaucoup d'autres nationalités et communautés en Turquie, que les Turcs et les Kurdes : Arméniens, Lazes, Arabes, quelques Grecs résiduels, les Alévis qui sont une communauté religieuse (en partie kurde).
4. Toutes ces nationalités et communautés,

y compris

les Turcs sunnites... sont opprimées (par l'impérialisme et l'oligarchie à son service). C'est la raison pour laquelle Kaypakkaya a aussi toujours fermement lié l'auto-détermination des Kurdes, et de toute autre nationalité anatolienne, à la

Révolution démocratique dans tout l'État

. Pourquoi ? Eh bien tout simplement, parce qu'il

savait

qu'une autre voie pour la "libération nationale" d'une de ces nationalités pourrait être utilisée par l'impérialisme pour se renforcer dans la région, et ainsi

opprimer les autres

. Ce à quoi les faits sont aujourd'hui en train de donner raison... La voie petite-bourgeoise, menchévique-libertaire pour la "libération" kurde s'est transformée en arme pointée contre la Nation arabe ; et faute de lien avec les masses turques, n'a fait que renforcer Erdogan et maintenant renforce Akşener qui promet pire encore, un retour pur et simple à la politique des années 1980.
Tout ceci est évidemment hors-sujet au Canada. Les Canadiens blancs ne sont pas une nation opprimée par l'impérialisme (pas même - plus même - les Québecois/francophones aujourd'hui, bien qu'ils puissent subir une certaine hégémonie anglo-saxonne dans un océan continental anglo-saxon), et l'auto-détermination des Premières Nations ne peut donc pas être utilisée pour les "opprimer" encore plus. Les fédéralistes ont pu par le passé essayer de les jouer contre le souverainisme québecois (en prétendant que l'État fédéral leur offrirait plus de garanties qu'un Québec indépendant), mais cela n'a pas marché car ça ne pouvait pas marcher, et le Québec est désormais un pays quasi-souverain.
Par conséquent, si les Premières Nations sont qualifiées de nations distinctes et opprimées, colonisées, le seul aboutissement de cette logique et "dépassement" possible des supposées "limites" de la position historique du PCR (la plus avancée, sur cette question, de toutes les organisations communistes canadiennes depuis toujours) est de proclamer clairement que ces 4% de la population doivent se voir restituer (pour commencer !) tous les territoires où ils sont majoritaires, ce qui représente pratiquement 85% des presque 10 millions de km² de territoire fédéral. Comme vous le savez peut-être, il y a "deux Canadas" : le Canada dit "utile", très majoritairement blanc, le long de la frontière avec les États-Unis... et le Canada PLUS UTILE ENCORE, qui concentre sur et sous son sol toutes les ressources en minerai, hydrocarbures, bois, eau, énergie et matières premières, et sans lequel le Canada "utile" n'est d'aucune... utilité.
Alors, sûrs et certains, donc, que nos camarades anticolonialistes super-déconstruits du PCR ("majo", "non-Montréal") vont déclarer une telle chose ? Présenté comme cela vient de l'être... je n'en suis plus si sûr.

[English]
One (important) point into Canada's Revolutionary Communist Party's ongoing split and controversy, is the Party's historical line about country's First Nations, elaborated and now upheld by Montreal-centered original nucleus and now Continuators part, would be "limited" and have to be "superated".
That's what the opposing part, couting Quebecois inside but mainly born from Party's expansion in English-speaking Canada, claims.
So... We're telling beforehand the

enthusiastic

we are to see theses comrades superating these so-called limits of Continuators line about Native nations, allowing their revolutionaries to self-organize (since they're

distinct

and

oppressed

nations) and stating clearly 85 pcts of the Federation's territory must be given them back.
Well, perhaps will these comrades, well-informed about World's communist movement and histoire, would answer "RWSDP" and "TKP/ML" (two parties which didn't and don't think that way)...
But RWSDP was a social democratic party which superated, with Leninism, the limits of "Marxist" social democracy in the fire of struggle. After October, CPbSU was a federation of national parties (except for Russians, who were directly members of CPbUS).
About TKP/ML :
1. TKP/ML always firmly stood for Kurdish self-determination, and has long time been the

only

Communist Party in Turkey standing so.
2. TKP/ML is actually a Kurdish party (80 pcts Kurds inside).
3. There are much more nationalities and communities in the Turkish state, than Turks and Kurds : Armenians, Lazes, Arabs, some remaining Greeks, Alevis which are a religious community (partly Kurdish)
4. All these nationalities and communities,

including

the Sunni Turkish one... are oppressed (by imperialism and its tied oligarchy). That's why Kaypakkaya firmly tied Kurdish and any Anatolian nationality's self-determination to

Democratic Revolution in the whole state

. Why ? Because he

knew

, another path for "national liberation" of one of these nationalities could be used to enforce imperialism in the area and so,

oppress the others

. That's what facts are actually proving today... Petty bourgeois, Libertarian-Menshevik path for Kurdish "liberation" has been changed into a weapon against Arab nation ; and not linked with Turkish masses, only strengthened Erdogan and now is strengthening Aksener who will be far worse even, a complete turn back to 1980s policies.
This is obviously off topic in Canada. White Canadians aren't an oppressed nation (neither Quebec/French-speaking Canadians now, even if suffering Anglo Saxon hegemony in a continental Anglo Saxon ocean), and First Nations self determination will therefore never be used to "oppress" them more... Federalist tried to play them against Quebec nationalism (pretending Federation offered more guarantees than an independent Quebec), but it didn't work because it couldn't and Quebec is now more than half sovereign.
So, if First Nations are qualified distinct and oppressed, settled nations, the only way to "superate" supposed "limits" in Historic RCP's stance (the most advanced ever, about this issue, among every Canadian communist organizations in History) is to state clearly these 4% of the federal population must get back (to start !) all territories where they're a majority, which means 85 pcts of the close to 10 millions sq. kms... As you perhaps know, there are "two Canadas" : the "useful" one, mostly white, along US border... and the MORE USEFUL EVEN one which has upon and under ground all gem, oil, gas, wood, water, raw material and energetic resources, and without which "useful" Canada is useless.
Sure our super deconstructed anticolonial RCP comrades will state that ? Presented the way i've just done, i'm not so sure anymore...